Sustainable Expansion of Maritime Observation
(NEMO)
NEMO is a 3-year maritime research project funded by the German Federal Ministry for Economic Affairs and Climate Action (BMWK). It represents research, development and innovation in the field of real-time technologies for maritime security.
The main objective of NEMO is to increase the efficiency of maritime surveillance to prevent illegal activities and secure global supply chains.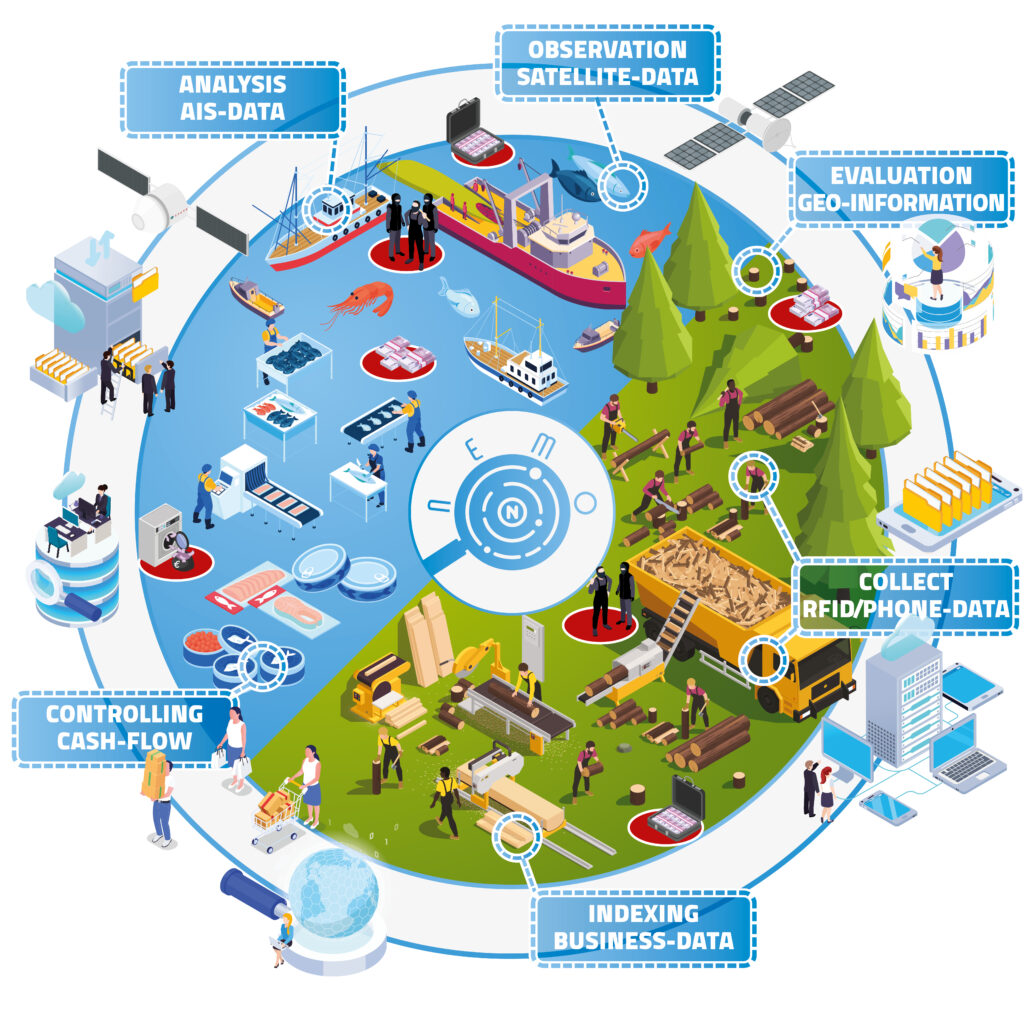 Understanding complex supply chains
Globalization and the digitization of all areas of our lives, right down to the last corners of the Earth, generate enormous volumes of data that are almost impossible to sort through. Illegal actions and transactions are difficult to track down in this mass of data streams, much less trace.
Only by understanding what today's supply chains look like and where anomalies occur, we will be able to develop a foundation for secure and resilient supply chains.
NEMO will be a generic model that can be used for the detection of any illegal activity. Through NEMO, every actor in the supply chain can understand where the goods come from, and which route was used.

This way all the actors and entities in the legal supply chain can meet legal obligations (Supply Chain Law), ethical requirements and corporate social respnsibilities.

Dr. Stefanie Frey, Managing Director at Deutor Cyber Security Solutions GmbH
Maritime Observation
Information from different data sources such as the Automatic Identification System (AIS) and multi-sensor satellites (Hawk Eye 360 – "dark vessels" tracing ) is to be evaluated using artificial intelligence (AI) methods for real-time situational awareness
Digital Traces and Financial Analysis
Analysis of digital data and aggregating and linking of the data into usable information. This will allow for the detection of incriminated money and networks of people, entities and vessels
Systems-of-systems approach
Is to be developed by using existing systems, which will make it possible to identify illegal activities in a more targeted manner and pursue them more sustainably in the future
Visualization
The results of the multi-sensor data fusion are to be integrated into an intuitively usable situation display
Complete transparency – for every product